Details
Details
The RAZRx is made to order in the Fluence Austin, Texas factory; please expect up to a 14 business day lead time before your order ships.
Looking to cover a larger canopy area? Call and ask us about the RAZR Array series from Fluence!
Density is the Metric
Horticulture Lighting Solutions for Vertical Farming
With this much power in a sleek form-factor, the new RAZR Series offers modular and scalable lighting for the world's largest and densest vertical farms.
Designed for the world's largest vertical farms, the RAZR family tackles a wide range of vertical farming applications with average PPFD ranging from 125-375 µmol/m2/s, making the new RAZR family ideally suited for full-cycle cultivation of leafy greens, microgreens, and culinary herbs as well as propagation of vegetable and ornamental crops.
Stacked Efficiencies - Lower your operating costs and improve your cultivation environment with cool & efficient horticultural lighting that stacks layers upon layers with practically zero radiant heat and efficacy surpassing 2.3 µmol/J.
Purpose Driven Design - At only 1.5 inches thin, the RAZR form factor is designed for dense vertical farming where every inch of space impacts the bottom line.
Broad Spectrum - Ideal for full-cycle indoor cultivation, PhysioSpec™ improves crop quality, shortens harvest times, and provides an ideal work environment for pest management and plant inspection.
Versatile Installation - With the ability to stack vertically in carts and shelving or daisy-chain horizontally across a rack or rolling table, the RAZR platform conforms to your existing setup for quick and easy install with reduced costs thanks to a one-to-many power supply.
Built to Last - Designed and built in Austin, TX, USA for close-proximity, commercial farming, the RAZR platform is constructed with an anodized, extruded aluminum alloy chassis and integrated passive heatsink for natural convection thermal management (zero moving parts), and is ETL wet location rated to withstand the harshest of growing environments.
With cantilevered mounting, and a modular width, RAZRx is designed for efficient plant-process-flow utilizing Danish trolleys and similar 53" long mobile racks. Delivering an average of 295 µmol/m2/s over a 2'4' area, RAZRx is ideal for full-cycle produce, ornamental and floral cultivation.
From seedling and cutting propagation to full-cycle microgreen and leafy green cultivation, RAZRx can do it all while using less. Less energy. Less space. Less time-to-harvest.
From towering racks to multi-tiered rolling tables, a new remote-mounted driver with daisy-chain configuration between fixtures provides a fast, low-cost and low-to-no profile installation
All RAZRx models are dimmable with an optional light intensity dimmer for precise control over PPFD, and offer the flexibility to instantly accommodate a new crop with varying light requirements.
Recommended mounting height is ≥ 5" above the canopy.
PhysioSpec Indoor is a full-cycle spectrum optimized for rapid growth and complete plant development. Tailored for growing plants from initiation to senescence (germination, clones/cuttings, mothers, vegetative and flowering applications) in indoor environments.  With a CRI rating of 85, PhysioSpec Indoor offers a beautiful work and research environment with vivid colors and greater contrast to study the health of your crop.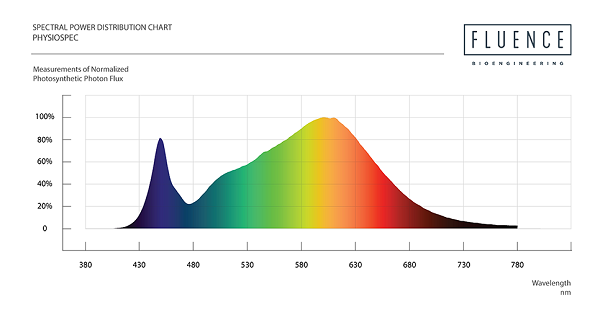 Plug Type Options:
NEMA 5-15P: This is the standard plug type for most residential (110/120V) outlets in the U.S.
NEMA 6-15P: This is the standard plug type for most commercial (220/240V) outlets in the U.S.
NEMA L7-15P: This is a twist-lock plug that is usually meant for outlets with voltages that are 220V or higher.
Pigtails: If you choose this option there will be no plug at the end of the power cord, only bare wires. This option is normally
Specifications:
PPF: 210 µmol/s per fixture

Power consumption (watts): 90 typical per array

Electrical efficiency (μmol/J): 2.3

Amperage: see below

Weight (lbs): 14 oz

Spectrum: PhysioSpec Indoor™
Amperage depends on fixture wattage (91W for RAZRx) and input voltage. Below is a general estimate. Actual figures may vary.
Amps @ 120V: .76A
Amps @ 208V: .44A
Amps @ 240V: .38A
Amps @ 277V: .33A
Warranty:
RAZRx systems are guaranteed against manufacturing defects for three years with projected lifetime of 100,000 operating hours to 70 percent of initial flux.
Return Policy:
Fluence lighting products are non-returnable. From Fluence - "Since all lighting systems depreciate with use (including the sun), we do not accept returns or exchanges on any lighting products. We do, however, offer a warranty guaranteeing our products for three years."
Additional Info
Additional Info
| | |
| --- | --- |
| Free Shipping | FREE Ground Shipping! |
| SKU | 9837 |
| Manufacturer | Fluence Bioengineering |
| Brand | Fluence Bioengineering |
| Dimensional/Billable Weight (lbs) | 1 |
| Length (in.) | 52.3 |
| Width (in.) | 23 |
| Height (in.) | 1.2 |
| Bulb(s) Included | Yes |
| Vendor Item # | RR-X-P-1-XX-XX-XQ |
| Special Order | Yes |
| Drop Ship Item | Yes - item may be drop-shipped |
| Manufacturer Warranty | Yes |
| Manufacturer's Suggested Retail Price | $319.00 |
Reviews