Details
Details
The new SPYDR 2p is made to order in the Fluence Austin, Texas factory; please expect up to a 14 business day lead time before your order ships.
Introducing the second generation SPYDR Series.




Iteratively designed with you in mind.
SPYDR 2p is a full-cycle top lighting solution for commercial cultivation, with the power to scale from vegetative growth to higher light intensities in bloom. For optimal results, we recommend SPYDR 2p deployed in environments with C02 supplementation between 800-1400 ppm in reproductive growth stage due to high PPFD levels. SPYDR 2p builds on the previous generation's SPYDRx PLUS performance.
The SPYDR 2p has been designed with commercial growers in mind. With the upgraded form factor, the SPYDR 2 Series unfolds out of the box for a faster installation and a plug and play solution. SPYDR Series is ideal for both multi and single-tier applications including vertical farms, growth cambers, tables with adjustable aisles, and tents.
With a remotely mountable power supply, the SPYDR 2 Series is just 1.3" thin with a recommended mounting height of 6" above canopy. The SPYDR Series is purposefully designed for multi-tier cultivation – from veg to bloom – with PPFD up to 1,060 µmol/m2/s over a 4'x4' canopy.
All SPYDR models are dimmable with our light intensity Dimmer for precise control over PPFD and offer flexibility to instantly accommodate a new crop with varying light requirements.
PhysioSpec Indoor is a full-cycle spectrum optimized for rapid growth and complete plant development. Tailored for growing plants from initiation to senescence (germination, clones/cuttings, mothers, vegetative and flowering applications) in indoor environments.  With a CRI rating of 85, PhysioSpec Indoor offers a beautiful work and research environment with vivid colors and greater contrast to study the health of your crop.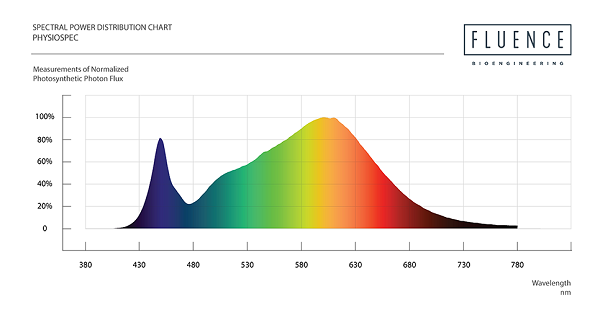 Mounting Hardware Options:
Lance Hangers: Provides a 2-point hanging solution, but the customer must supply their own rope ratchets, chain or cable. PSE must also be centered on the fixture or it will be off balance. This is the standard option when not using multi-tier racks.
Adjustable Hanging Kit: Provides a 2-point hanging solution with 5 feet of braided stainless steel wires and carabiners. PSE must also be centered on the fixture or it will be off balance.
Short "V" Mounting Brackets: Provides a 4-point mounting solution that's ideal for waterfall decking on top of 2"-3.5" support beams (rolling racks and some pallet racks).
Long "V" Mounting Brackets: Provides a 4-point mounting solution that's ideal for waterfall decking on top of 4"-5" support beams (pallet racks).
Solid Decking Mounting Brackets: Provides a 4-point mounting solutions that's ideal for level solid decking and rolling tables. Requires two front-to-back support bars per fixture.
Plug Type Options:
NEMA 5-15P: This is the standard plug type for most residential (110/120V) outlets in the U.S.
NEMA 6-15P: This is the standard plug type for most commercial (220/240V) outlets in the U.S.
NEMA L7-15P: This is a twist-lock plug that is usually meant for outlets with voltages that are 220V or higher.
Pigtails: If you choose this option there will be no plug at the end of the power cord, only bare wires. This option is normally chosen if the fixture will be hard-wired to your power source.
DC Cord Upgrade Options: The power supply is normally attached directly to the SPYDR fixture. Choose a DC Cord Upgrade only if you wish to remotely mount the power supply. You can mount the power supply on the side of a rack or on an adjacent wall to remove heat from your grow space, and to allow an extra 3.3" of canopy height. A pair of PSE Mounts is included with every fixture, which are ideal for pipes but wide enough for Unistrut as well.
Specifications:
PPF: 1580 µmol/s

Power consumption (watts): 632 typical

Electrical efficiency (μmol/J): 2.5

Amperage: see below

Weight (lbs): 24lbs 13oz

Spectrum: PhysioSpec Indoor™
Coverage Area: 4 ft x 4 ft @ 6-8 in above canopy
Standard SPYDR 2 Series fixtures ship with autosensing 100-277V power supplies. To order 347V, 400V or 480V SPYDR 2 models, please contact us for pricing and lead times. Amperage depends on fixture wattage (632W for SPYDR 2p) and input voltage. Below is a general estimate. Actual figures should be calculated based on your exact voltage. Please note that 347V, 400V & 480V SPYDR 2 Series fixtures operate at an average of 3% higher wattage.
Amps @ 120V: 5.27A
Amps @ 208V: 3.04A
Amps @240V: 2.63A
Amps @277V: 2.28A
Amps @347V: 1.88A
Amps @400V: 1.63A
Amps @480V: 1.36A
Warranty:
All SPYDR systems are guaranteed against manufacturing defects for three years.
Return Policy:
Fluence lighting products are non-returnable. From Fluence - "Since all lighting systems depreciate with use (including the sun), we do not accept returns or exchanges on any lighting products. We do, however, offer a warranty guaranteeing our products for three years."
Additional Info
Additional Info
| | |
| --- | --- |
| Free Shipping | FREE Ground Shipping! |
| SKU | 10456 |
| Manufacturer | Fluence Bioengineering |
| Brand | Fluence Bioengineering |
| Dimensional/Billable Weight (lbs) | 24.75 |
| Length (in.) | 42.8 |
| Width (in.) | 46.99 |
| Height (in.) | 4.3 |
| Bulb(s) Included | Yes |
| Vendor Item # | SR-2P-I-1-XX-XXX-XX-X-X |
| Drop Ship Item | Yes - item may be drop-shipped |
| Manufacturer Warranty | 3 years |
| Manufacturer's Suggested Retail Price | $1,350.00 |
Reviews